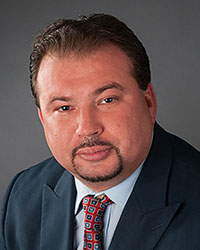 Vice President Beyond the Bars, L.L.C. Founder and Executive Director of the Jeffrey Deskovic Foundation for Justice, Inc. Criminal Justice Advocate, Journalist, Public Speaker & Lobbyist for Reform
Jeffrey is the Vice President of Beyond The Bars LLC, a partnership formed to launch the game, RECHARGE Beyond the Bars Re-entry Game. Forming Beyond the Bars is a natural complementary company to Jeffrey's life mission and the mission of The Jeffrey Deskovic Foundation for Justice.
Jeffrey was wrongfully convicted of a brutal rape and murder of a high school classmate in 1990 and spent 16 years in prison. From the age of 17 to 33, Jeffrey was an inmate in maximum security prisons until DNA evidence not only exonerated him, but also identified the actual perpetrator, who, left free while Jeff was wrongfully incarcerated, struck again 3 1/2 years later, killing another victim. In 2006, Jeffrey was released and The State of New York officially exonerated him, while offering him an apology. Four years later, he received some financial compensation for his ordeal. Seeking to take a negative and turn it into a positive, it became his mission to fight wrongful convictions, firstly as an individual advocate, and later on by launching The Jeffrey Deskovic Foundation for Justice with $1.5 million dollars out of the money awarded to him as compensation. The Foundation, the countries only exoneree started organization of its kind, is dedicated to preventing wrongful convictions via raising public awareness and seeking legislative changes to make the system more accurate, while also seeking to exonerate those who have already been wrongfully convicted, and then assisting them with reintegration back into society. In its first year and half of existence, the Foundation has: helped exonerate William Lopez after 23 1/2 years of wrongful imprisonment; helped win the release of another prisoner via parole who was asserting his innocence whereas usually not admitting guilt and expressing remorse will result in denial of parole; constructed The Thinking Jurors Manual and made distributions of it outside of state and federal courts; co-designed a wrongful conviction college course syllabus which was taught at Farleigh Dickinson University; leased an apartment where several exonerees who didn't have a place to stay have lived; and participated in many print, radio and television interviews.
Jeffrey's motivation for establishing the Beyond The Bars LLC partnership and to launch the RECHARGE Beyond the Bars Re-entry Game is that it aligns with his mission to proactively help men, women, and young adults emerge from their incarceration to adapt to everyday society. Beyond the Bars provides a lifeline to people who have largely been written-off by society. Recharge is the flagship product that Jeffrey realizes can alleviate some of the crucial communication challenges that exist between the formerly incarcerated and their friends and family.
As an exemplary speaker on numerous subjects pertaining to the legal system, Jeffrey has deep knowledge of the incarcerated individuals psychology, realities of prison life, difficulties in reintegrating back into society, and other captivating and insightful topics. He is a highly sought after guest speaker and interview subject. He has lectured at numerous colleges, universities, professional associations, and high schools across the country, including: Harvard, Manhattanville College, Roger Williams University, Sienna, University of Maine, and the State of Connecticut Division Of Public Defender Services. He has been a keynote speaker for international conferences and community organizations such as The First International Conference on False Confessions and Interrogations, which was sponsored in part by the American Psychological Association; African American Men of Westchester; Bronxville League of Women Voters; the Northeastern Association of Forensic Scientists; and New Yorkers Against The Death Penalty.
Jeffrey's unique perspective, education and work experiences have made him a top authority and quoted source in the news. Jeffrey has appeared on nearly every major Radio and Television network and cable news program, including CNN, Fox News, ABC World News, and Court TV. He is often quoted in print media, and has authored several editorials in addition to several hundred articles for The Westchester Guardian where he was a columnist for five years. His opinion and comments can be found in media outlets ranging from the Associated Press, USA Today, and The Wall Street Journal, to hundreds of local, community and regional newspapers.
Jeffrey was a major part of the successful fight to ward off efforts at capital punishment reinstatement in 2007 in collaboration with New Yorkers Against the Death Penalty because of the risk of executing an innocent person, while also participating in the successful effort to legislative abolish the death penalty in Connecticut. Jeffrey endorsed in the 2009 Manhattan District Attorney's race, the 2010 NYS Attorney General Race, and in the 2014 Brooklyn District Attorney race.
Jeffrey earned his Master's Degree from John Jay College of Criminal Justice in 2013, which included writing a thesis on the causes of wrongful conviction and the legislation needed to shore up those cracks in the system. He holds a Bachelor of Science Degree from Mercy College. During his wrongful imprisonment, Jeffrey received his Associate's Degree in Liberal Arts in 1994 from Corning Community College.
Are you ready to take real action towards
healing, connecting, and growing together?
Please join us in this revolutionary movement to heal the wounds of incarceration.