Hope, Empowerment, and Love
You do not have to go through it alone.
There is connection. There is hope. There is love.
We seek to save lives, strengthen families and relationships, and to provide internal resilience to those who are struggling in silence, isolation, and too often overwhelming despair.
The Recharge game is the Therapist. The questions you might want to ask, but don't know how to are in the game, hundreds of them! You speak to your comfort level, and say as much or as little as you like. Everyone answers the same question around the circle; everyone shares, everyone builds trust and connection, everyone wins!
With millions of people cycling through prisons and jails and returning home every year, this movement is intended to be a first step in:
Unprocessed trauma and loss, as well as lack of connection, can lead to devastating emotional and social consequences. Our mission is to heal hearts and spirits so that hope becomes real, motivation for change is increased, and the formerly incarcerated and their families, as well as peer to peer groups, can communicate deeply, find understanding and compassion together and tangibly strengthen their bonds.
H.E.A.L. Movement Objectives: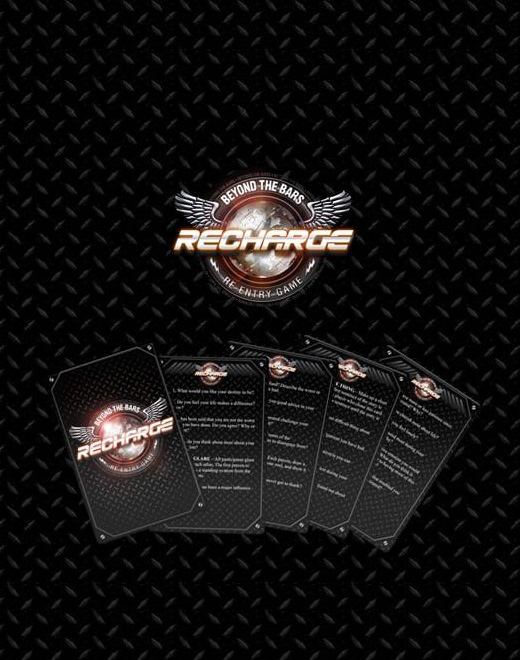 A Letter From the Creator of RECHARGE Beyond the Bars Re-entry Game
Sometimes people in your life don't know how to ask the questions they want or need to ask to have the communication which will bring back the connection and the love.
That is why I created RECHARGE. We all need to be cared about, cared for. We all need connection.
Through 400 thoughtfully designed questions and interactions, designed in
consultation with formerly incarcerated people, and ranging from fun and light
too deep and profound, The Recharge Beyond the Bars Re-entry Game provides a space of interactive reflection, genuine connection, and enjoyable, meaningful
and transformative conversations.
For those whose lives have been filled with rejection and punishment, Recharge offers an experience of acceptance, approval, and validation. It is a place where all participants can be fully themselves, connect and reconnect, process their lives and experiences, and share everything from their demons to their dreams while building bridges of understanding and compassion back HOME.
I hope you will play Recharge often. I hope you will find healing, connection, validation, understanding, empathy, compassion, and peace.
With Love,
Are you ready to take real action towards
healing, connecting, and growing together?
Please join us in this revolutionary movement to heal the wounds of incarceration.